You know what sucks? Censorship. You know what sucks more? Banned books. But here's the good news, when people find out a book is banned they want to read it to find out why, so those books become more popular. Suck on that censorship! Some more good news? I'm participating in
I Am A Reader, Not A Writer
and
I Read Banned Books
' Banned Books Week Giveaway Hop!
Enter to win a Platinum Edition copy of
Speak
by Laurie Halse Anderson below and don't forget you can go enter all the other
hundreds
of giveaways, too!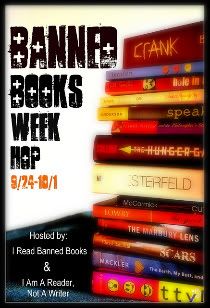 Speak
is a very powerful novel, one I gave five stars to. Ever since the terrible "Incident" Melinda has been unable to make herself speak out loud. Attending class it torture while she tries to keep her deep, dark secret about why she's so depressed. This was such an amazingly well-written novel that raises so many important issues. If you haven't read it yet, you really need to enter this giveaway for a chance to read it. It's such a classic of YA literature and for good reason.
The rules: Open to US only and you must be a follower of my blog to win. You have until 11:59pm EST on October 1st to enter and I will choose a winner the next day.
CLICK HERE TO ENTER!
Want to enter the other couple hundred giveaways?